Shifting Slopes - Gingerly Press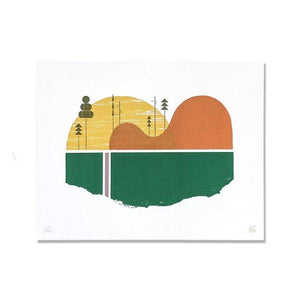 Gingerly Press - Lindsay Schmittle
This collection is ultimately all about hope in the collective power of everyday individuals to make impactful change with a simple mindset shift. It is a shift of our idea of nature, realizing it is not just over there, somewhere in a protected park, isolated like an island oasis, but also all around us all the time, in our own yards, along our neighborhood sidewalks and lining our roadways. Read more of the artist statement for the collection on the blog.
-limited edition letterpress print from the Torn Earth Collection
-8 x 10", fits in a standard size frame, frame not included
-printed with vintage metal ornaments & border rule, a carved linoleum block, a carved oak wood block and a handmade torn paper printing block
-printed on 100% recycled paper from French Paper Co, a Michigan-based paper mill operating on 100% hydropower
-one native tree planted in a National Forest through the National Forest Foundation with purchase!
-ships with numbered & signed Certificate of Authenticity
-handmade in Pittsburgh, Pennsylvania