Lizard Paper Sculpture - Questionable Press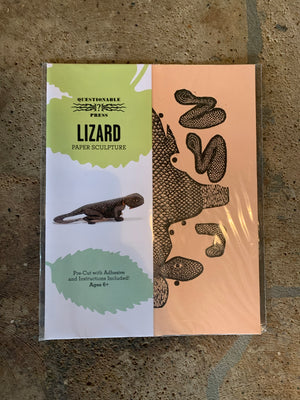 Questionable Press - Sarah Brown
Sarah - 
One rainy afternoon, I had the pleasure of meeting a box turtle. The feeling of joy and surprise in finding the turtle stayed with me as I walked back to my shop.
I sat down at my desk and started cutting paper. Eventually, I crafted the form of the turtle. Then I used my traditional printing processes to hand carve and print an image. When I cut and assembled it- out came a little friend! I felt like I'd brought a small part of the woods into my home.
Since then, I've made a collection of reptiles, amphibians, and insects- but this turtle was the first!
This Lizard Paper Sculpture is pre-cut, with adhesive and instruction, so you can assemble it whether you're 6 or 106! As this flat pieces of paper transform into your new creature, I hope you find the same joy and excitement I find in the woods.