Torn Earth: Sunset Lake Print - Gingerly Press - Limited Edition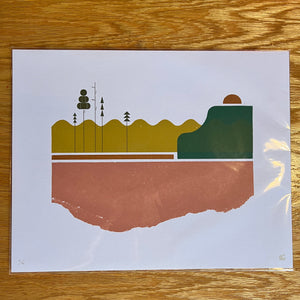 11 x 14 limited edition print.  Printed on 100% recycled paper from French Paper Co.  printed with vintage metal ornaments & border rule, carved linoleum blocks and a handmade torn paper printing block.
One native tree planted in a National Forest through the National Forest Foundation with purchase.
Handmade by Lindsay Schmittle of Gingerly Pressing Pittsburgh, PA.